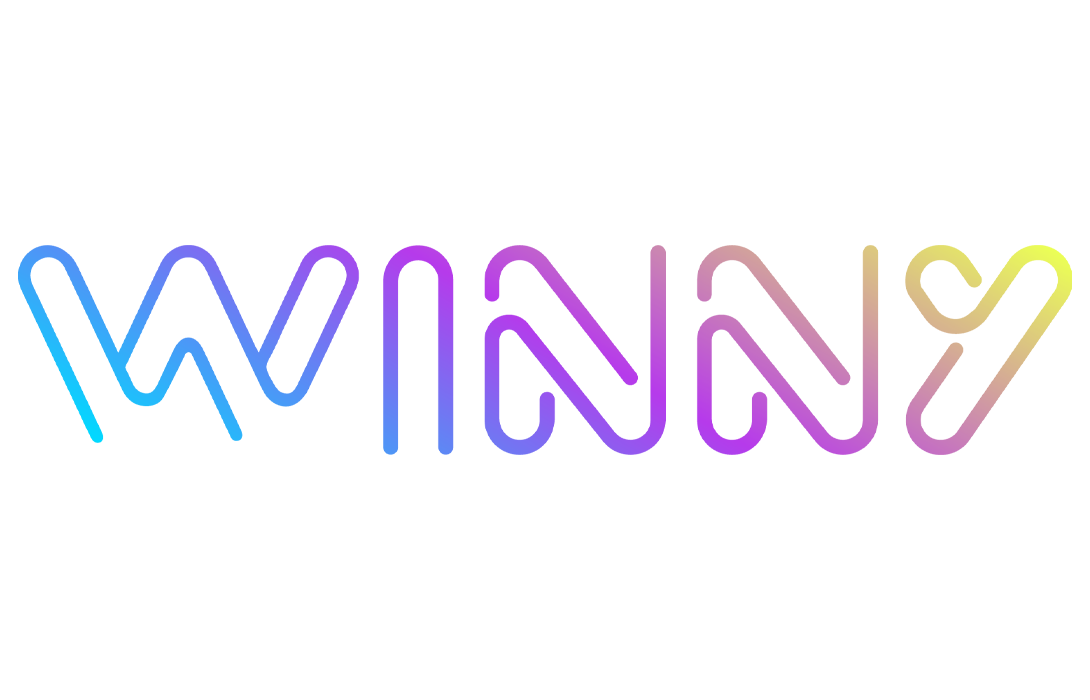 PLAY NOW!
10% Cashback Bonus
Winny Casino Review
Highlights
10% real cash back every single week (no wagering requirement)
3000+ online slots
200+ live casino games
Full mobile compatibility
Cons
Only accepts EUR for transactions
No FAQ page
Payment
Software
Max. pay-out
€7500 per week and €15,000 per month
Pay-out period
Processed within 4 hours
Company
N1 Interactive Ltd
Games offered
Online slots, live casino, roulette, blackjack, and jackpot games
Licence
MGA/B2C/394/2017 (Malta)
Contact
Imprint
206 Wisely House,
Old Bakery Street,
Valletta VLT1451,
Malta
Trusted
About Winny
I have been playing at online casinos for many years now, which is how I've become an online casino expert, with the awesome job of writing casino reviews. And in my job, one of the most exciting aspects is to encounter a new online casino that meets all the credentials for joining the better known brands out there.
Winny casino, is one such relative newcomer to the online gambling space. Having made its debut in 2020, I kept a close eye on this mobile friendly site, to see how it performed over an extended period, before sharing my findings with you. After all, it takes at least a few months for a new online casino to solidify its offering and give us a better impression of the direction it will be taking.
So in a nutshell, now that I'm at the Winny casino review stage, let's look a bit at the details together.
Winny is apparently designed first and foremost as a place to play online casino games. Seems instinctive enough, though let me tell you from my experience, this is not always the case. Often online casinos have a lot of bells and whistles, creating noise but with little substance behind them. That is, you can sometimes find tons of bonuses, but surprisingly, very few games. Or you may find dozens of payment methods, but not enough game options.
Winny for its part has a huge game catalog, including an exceptional focus on online slots with over 3000 games and growing, plus a huge live casino with 200+ titles.
The downside, however, which I'll already point out, is that you can only gamble here in euros. That means from anywhere in the world. So if you're say a Canadian or Australian player, just be aware. This is a euros-only site. Other than that, I have plenty to say on the matter, mostly good. So keep reading for my full impression and Winny casino review.
Winny Bonuses & Promotions
Type of bonus: Welcome Bonus
Bonus amount: 100% up to €100
Other bonuses: Weekly unlimited 10% cashback bonus
Let's start from the beginning. The official casino welcome, better known as the welcome bonus. As you may have already noticed, if you've already had a glance at the Winny casino website, there is no Winny casino welcome bonus. In fact, there is no Winny casino welcome offer at all. Bummer you might say, and I can see why. But let me assure you, it is not the end of the world, by a long shot.
Sure it's nice to get 100% bonus up to say €500 on your first deposit. But that's a nice one off. What Winny does instead is reward you steadily and regularly. That is, from the moment you sign up and make your first deposit, you will be eligible for the weekly 10% cashback bonus.

As for other bonuses, there are certainly those available as well. At any given time, just click on the 'My bonus' icon at the top of each page, to see what you have on offer. Since most Winny bonuses are tailored to your level of play, they will differ between players. Also, make sure to keep an eye out for special promos sent either by SMS or email, since those will come your way as well.
Because, in fact, while I did just say there is no Winny welcome bonus per se, this isn't quite true. While there is no welcome bonus advertised onsite (meaning technically it's not an official policy), I was pleasantly surprised to receive an email shortly after joining offering me 100% up to €100 on my first deposit. So while I can't say what you'll get exactly, I'm guessing most new players are offered the same or similar thing.
In addition, there is plenty of tournament play available at Winny. For example, the Drops & Win slots tournament has €125,000 up for grabs in daily and weekly prizes and the Drops & Wins live casino tournament has a further €125,000 on the table each week. Not too shabby I'd say!
Weekly Unlimited 10% Cashback Bonus
The other big bonus offered at Winny, and what many including myself consider its crowning glory, is the weekly unlimited 10% cashback bonus. Seriously, this bonus structure is fantastic for a number of reasons.
The first is that you automatically qualify as soon as you start playing, with no fancy requirements to work your way through first. The second is that this bonus is given out to active players every single week. That means as long as you played in any given week, you are eligible to recoup 10% of your losses. So let's say you had a less lucky week, and lost €100, you would get €10 back, in real cash.
Third, there are very few limits on this bonus. For example, even if you lose as little as a single euro in any given week, you will still get your 10% cash back. And no matter how much you bet or lost, you will still receive a full 10% bonus. That is, there is no maximum sum that the casino pays back. Amazing! Fourth, it is a highly reliable offer with clear parameters. Every Thursday at the same hour, the casino makes its calculations and the magic happens, just like that. Like clockwork, you know it's coming and when.
Fifth, it is all about the slots. That is, the cash you receive back is for any losses you may endure on any of the 3000+ Winny slot games. Which, by the way, happens to further prove what a slots haven Winny is. And finally, there are no wagering requirements for this cashback bonus. That means it is exactly as it reads. Real cash back. Need I say more?
Winny Wagering Requirements at a Glance
Like I just said, the wagering requirements for the 10% cashback offer – being absolutely none! – are really amazing. I mean, who's even heard of no wagering requirement bonuses at an online casino? But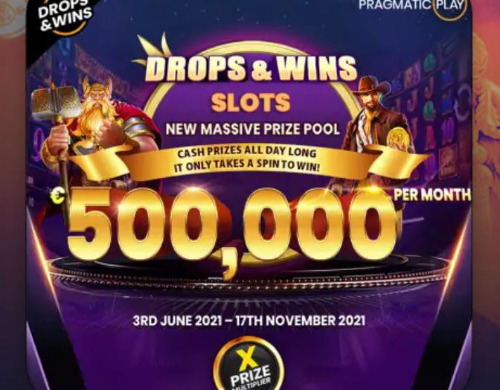 here we have it. So kudos to Winny on that front. As for wagering on other bonuses, like the 100% up to €100 first deposit bonus, well that is a rather traditional 40X. Keep in mind, however, you'll need to be reasonably active in your play, as the wagering requirement for this particular bonus (and actually all Winny deposit bonuses) needs to be cleared within a seven-day period.
Game contribution is also well within the expected norms with most slots counting at a rate of 100% towards your bonus play through, while table games and live casino games count at a rate of 10%.
Our Review and Rating of the Winny Welcome Bonus
Although the Winny welcome bonus is a private matter – that is, it is sent to you on a personal basis – I can still give you my opinion. And that is, in case unclear above, that this is a nice solid sum with decent terms. Again, I'm not sure why it isn't more readily promoted onsite, but perhaps Winny is the unique online casino that wants to pleasantly surprise players. I can say from my own perspective that this certainly was the case for me.
Also, since the cashback bonus starts from your first round of play, I'd consider it part of the Winny welcome package as well. And since I clearly really like this cashback program, it gets an extra good rating from my vantage point. So if you're looking for me to give Winny bonuses an overall a grade, I would have to say a very strong 9.2 out of 10. Because, sure, it's not the biggest total sum. But it is super fair and appealing and rewards players in all the right places. Plus, it's just really accessible.
Other Winny Bonuses
If you look under the 'Promotions' tab on the Winny website, you'll mostly find what I did. And that is, tournament types of promotions. For example, when I last looked there was the Drops & Win slots tournament with a €125,000 in daily and weekly prizes up for grabs, a Drops & Wins live casino tournament also with €125,000 in prizes (but in this case each week), and a Mega Wheel tournament with a total of €25,000 in weekly prizes.
But don't let a lack of advertising fool you. Just like with that first deposit bonus I got to my email, I can assure you that there are plenty of other goodies on the way like free spins and match deposit offers. The key, I'll remind you, is to check your email or SMS (whichever you ticked as your preferred communication method when you joined Winny) to make sure you don't miss out. And from my experience, you don't want to miss out!
Winny Loyalty Bonuses
The other category of casino offers you may be wondering about are the loyalty bonuses. So what kind of VIP club does Winny have you may ask? Well technically none at the moment. That is, if you are searching for something like the Winny loyalty program, you will not find one. That, however, does not mean that loyalty is not rewarded at Winny. On the contrary in fact! As I already detailed above, Winny is very much about pampering players, and most often on a level that is commensurate with their degree of play. Again, just make sure to check your personal correspondences from Winny to make sure you see all the bonuses being sent.
Similarly, I recommend every now and then having a look under the button at the top of each page, when you're logged in, labelled 'My Bonus' where you can see all active bonuses for your account.
Winny Software
While I have already covered the Winny games quite extensively above, I think the Winny software deserves a special mention as well. The software, of course, isn't actually Winny's. Very few online casinos in fact operate with their own software. Rather it's the software developers one chooses to partner with that makes all the difference in terms of an online casino experience.
So for Winny's part, and this is the truly amazing bit, the casino is working with no less than 79 software providers. Sure, a couple of dozen providers might be expected from what I'd call a strong casino brand. But this is simply superior to what else is on the market.
Not only that, these are all really great game providers. They include some of the biggest and best in the industry like NetEnt, Microgaming, Yggdrasil, Play'n GO, Playtech, and Pragmatic Play to name but a few. But there are also many smaller developers in the mix, which I'd say are like hidden gems. That is, they have really specific niches that are fun for me as a player to encounter. If this type of boutique slots experience speaks to you, by the way, I recommend searching for games by provider, so you can give each developer its due – and enjoy a refreshing experience along the way.

Winny Banking
Next up, I want to share my opinion in terms of Winny casino banking. Is it a winning experience you ask? Well, ultimately yes, though admittedly not the best I've seen. The main issue here is that Winny casino only works with euros. That means you can only deposit in euros and only withdraw euros, which in my mind is rather limited.
After all, I know we have many readers here who live in Canada, the US, or Australia, who would rather be banking in CAD, USD, or AUD, for example. So if Winny was asking my advice, I would definitely recommend expanding the currency options, at minimum to include US dollars, not to mention the crypto currency transactions that are becoming increasingly popular.
Payment methods
As for the payment methods themselves, I have to say, those too are somewhat limited. That is, for fiat currency casinos, I'm used to seeing more like a dozen payment methods being offered, while here at Winny, at the moment, there are only a handful.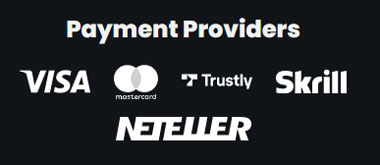 True, these payment methods are all very popular ways for people around the world to execute transactions. And so between Visa, MasterCard, Skrill, Neteller, Trustly, and Rapid Transfer, you should certainly be able to find one that works well for you. But again, I would be happy to see more options available, with say a few more e-wallets, and even good old bank transfers.
The banking process itself, however, is easy enough. If you have ever played at an online casino before, or even bought anything online, you should be well familiar with how it works. And even if you haven't, it is all completely intuitive, with clear prompts to help you proceed. That is choose a payment method, indicate the amount, fill in the required fields, and submit.
Currencies You Can Play with at Winny
There are a couple of factors to consider when you are looking at a casino's banking mechanisms. And the first, in my opinion, should be the currencies it offers. Well, at least to an extent. For example, and here I'll just point out the pink elephant in the room and get it over with, Winny casino only accepts euros for transactions. And by that I mean you can only bank in euros at this particular establishment for both deposits and withdrawals.
Bummer, I know, but that's the way it is. Of course, for our readers across Europe, this is no problem and in fact, is ideal. But for those of you in South America, Canada, Asia, or wherever, don't let this deter you. True, there may be a slight loss at times on currency rates or exchanges, but in general, with the ease of international banking these days it shouldn't be a problem.
Though a small tip, on a personal level, if you are living in a place where euros aren't your everyday currency, I recommend familiarizing yourself with the approximate exchange rate so you can keep better track of your wagering. And for those who were wondering, when I wrote euros if I somehow missed out on crypto currency, unfortunately, the answer is no. As of yet, Winny is not a crypto casino. Though since digital currencies are gaining in popularity in the online gambling community, I've certainly got my fingers crossed for that coming one day soon. But in the meantime, euros are it.
Leading Winny Casino Payment Methods
So now that we have established that euros are the only way to go for Winny bank transactions, within those confines, which payment methods should you expect? Well again, the range isn't quite as large as I'm used to from gambling at other top-notch online casinos to which Winny is comparable. True, often these competitors have more payment methods available because they use localized currencies. That is, in Canada you would have options like Interac specifically since you are betting in CAD. But at Winny, since it's all about euros, the payment methods offered are most conducive to that.
And while they are not the most massive in range, the Winny payment methods that are available are popular enough that you should be able to find one that matches what you use for other online acquisitions. In no particular order they are: the two main international credit cards (being Visa and MasterCard), Trustly, Skrill, Neteller, and Rapid Transfer.
Review and Rating of Winny Deposits
Now that I've covered the basics, as to which currencies and payment methods you can use at Winny, it's time to get down to the details. And so I'll start from the beginning of banking which is making your first deposit. One thing I noticed at Winny is that it is very keen on security. For example, while all reputable online casinos (Winny included) will require you to submit identity verification documents in order to process your first withdrawal, Winny already wants to verify your identity at the deposit stage. And so for some deposit methods, the cashier will already ask you for personal details. This is actually a good thing in my opinion, as I like to know that an online establishment takes my real money seriously.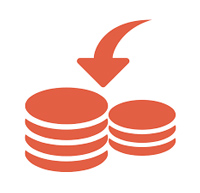 Other than that, the Winny depositing process is completely regular. That is, you click on your wallet (icon at the top of your screen when logged in), open the 'Deposit' tab, choose the deposit method you would like to use, and proceed from there. All actions are accompanied by clear commands. So while the entire interface is super easy to follow, you can always read the prompts for further assistance. Once you have selected your desired deposit amount and submitted it, the amount should then be seen in your Winny account instantly.
Limits and Fee Structure When Making a Winny Deposit
Like most online casinos, Winny has limits when it comes to making a deposit. On the lower end, being minimum deposits, the smallest amount you are able to deposit at a time is €20. This is for all of the available payment methods. When it comes to maximum deposits, the most you can deposit at a time is €10,000. These are both very reasonable limits, with few online casinos accepting less than €20 at a time, and €10,000 definitely being on the higher end of what I've seen for fiat casinos (i.e. those in which you bank in traditional currencies rather than crypto).
Another good thing to note is that there are no deposit fees at Winny. Mind you, outside of crypto casinos that would be a rare thing to find, but certainly something worth pointing out.
Making Payouts from Your Winny Account
Getting your money into a casino is one thing. It's getting it out that gets some players worried. And I totally get that! It's my primary concern too. So again, I did the legwork, and went through different payment methods to see how Winny withdrawals work. And basically they work in the exact same manner as deposits. You just log in to Winny casino, click to open your wallet, then click on the 'Withdraw' tab, and fill in the fields from there.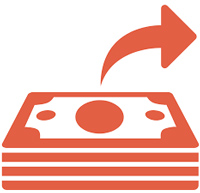 Just keep in mind, not all payment methods will be available for withdrawals. This basically depends on the country in which you live. For example, accounts registered in Canada only allow for withdrawals using Trustly, MasterCard, or Visa. In terms of the timeframe you should expect, once you have submitted a withdrawal request, the casino itself will process it within four hours. Four hours, by the way, is very fast. From the many other online casinos I've reviewed, 24 hours is considered a bragging point and lightning fast. So four hours all the more so.
That being said, there may be a slight delay until you actually see the cash back in your personal account. And that is only because each payment method has its own internal processes, which can slow things down a tad.
Skrill and Neteller, popular e-wallet services, for example are pretty much instant for withdrawals as much as deposits. Withdrawals using services like MasterCard, Visa, or Rapid Transfer, however, can take up to three business days to complete, which I happen to think is also very fast. And certainly no more time than any other transaction using these payment methods. Just remember, as I mentioned above, you will need to verify your account in order to make your first withdrawal. To do so you will simply have to submit valid photo ID and a standard document (like an electric bill) that shows proof of your registered address. This is for both anti-money laundering regulation purposes, as much as your own personal protection.
Limits and Fee Structure When Making a Winny Withdrawal
Sure, it is important to know how much you can deposit at a time. But from my experience, it's how much you can withdraw from Winny at a time that really interests players. After all, since I'm guessing you're playing with the hopes of winning, you want to be sure you'll be able to get your money out. Well first of all, let me reassure you that you will have no trouble cashing out from Winny. This is a licensed online casino and as such, operates by the books. As for Winny withdrawal limits, on the minimum end, the least you can cash out at a time is €20, which is to be expected. That is, pretty much the minimum withdrawal sum at most online casinos.
Maximum withdrawal sums are admittedly somewhat more limited. While you can deposit up to €10,000 at a time, you cannot withdraw more than €7500 per week or €15,000 per month. Note, however, if the requested amount exceeds the limit of a particular payment system, the amount will be withdrawn in installments. Also, needless to say all progressive jackpot wins will be paid in full. So to reiterate, not the highest withdrawal limits at Winny, but certainly workable. And in terms of fees, there are zero fees on transactions at Winny, period. However, keep in mind that some banks or payment methods may apply fees from their end.
Winny Customer Service
How to Contact Winny Support
• Live Chat: Onsite
• Email: hey@winny.com
• Phone: None available
When it comes to Winny customer service, again, I have a few things to say. First of all, for those who are wondering, yes Winny customer support is available 24/7. That is, around the clock, which means you can access a live support agent at any hour of the day, no matter where you are personally located.
The best way to reach Winny support is through the live chat function, which is clearly marked on the website. Once you click the button for support, an agent is almost immediately available, with basically zero lag.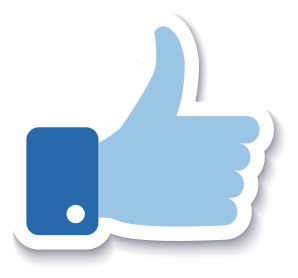 On the slightly less impressive side, while the agents are quick to get on the chat, they aren't as quick as I'd expect in delivering answers. That is, I found in a number of instances, in which I asked basic questions about deposit and withdrawal limits, it took unexpectedly long to get an answer. The little dots were visible, showing typing action. But for simple questions like that, it just shouldn't take more than a few seconds to get a response. And unfortunately, this wasn't an isolated incident. It
took the agent a couple of minutes to respond
about available currencies as well. Not sure why this is the case, but I would like to see it sped up, as people in an online world simply put, have very little patience to wait around. Other than that, the answers given were fine.
If, however, chat is not your thing, I can tell you, sending an inquiry to  hey@winny.com also works well. Actually, the natural lag in answering you'd expect from email may make it preferable in this case. And if you are looking for phone support, I'll just point out, don't bother. I don't mean to be funny, actually, it's just – and this is a tip from me – casino phone support is essentially a thing of the past. So again, chat is the way to go.
Chat – The Best Option for Reaching Winny Support
Okay, so now it's time to get into the details of the Winny support experience. And for that I will begin with Winny chat. That is because the chat function is the most intuitive way to reach casino support these days. So how does Winny chat work? Well basically, and this is something I like about Winny chat, anyone who visits the website can access it. Even before you have officially joined the casino.
To find it, just look to the top left corner of your screen at the three horizontal lines. That is where the main navigation is hiding. Click those three lines and you'll see a dropdown menu with one of the options listed being 'Live Chat'. Now click on that link and the chat window will open in the bottom right corner of your screen. There you enter your name and email address if you don't yet have a Winny account. And if you do, these fields will be auto-filled for you. Then just type your message and hit enter to begin the conversation.
From my experience, it will take no more than a couple of seconds for a live agent to pick up your chat. Really, I initiated a Winny chat more than a dozen times at different hours of the day, to make sure that this is as much a real time feature as advertised. And I assure you that it is. Winny support is indeed a 24/7, round the clock service.
So if you have any questions or concerns as you play at Winny, there will always be someone available from the Winny staff to help you out.
How Long Does It Take Winny Customer Service to Respond?
Another question that's important to address is the Winny customer support response times. And this is where I have a bit of an issue with Winny support, to be honest.
Like I wrote above, Winny support is totally available around the clock. And the professional service agents answer all chats immediately. The problem I found at times, however, was that once I asked a question, it took longer than expected to respond. True, in this day and age we have grown ridiculously impatient and even a 10 second delay seems unbearable. But I found that a couple of really simple questions – like what currencies does Winny casino accept or what is the maximum withdrawal amount allowed – took more than that to get answers to.
True, the answers did come. And when they did they were detailed enough. But for rather standard questions that I'd imagine plenty of players have, I would like to see a quicker response time. Not the end of the world, mind you, but since this is a casino support review, worth mentioning.
Winny Casino Games
Moving right along, I'd like to zero in on what I already mentioned is the star of the show at Winny casino. And that is, with absolutely zero doubt, the online casino games.
Really. Again, I play and have played at a lot of online casinos. And while Winny may still have some issues to iron out in other realms, it is by far one of the best online casinos for those in search of games – which realistically, is what one should be looking for in an online casino.

What makes Winny so special you ask? Well for starters, Winny has over 3300 online slot machines in its casino lobby. This means a huge assortment of video slots to meet the tastes and budget of every type of player.
In addition, I'm telling you, Winny has just about the coolest way of organizing and classifying all these slot games. Instead of just one tab labelled slots, you get incredibly specific categories that will help you pinpoint the exact types of games you seek. For example, there are 'New Slots', 'Popular Slots', 'Megaways Slots', 'Slots with Shiny Gems', 'Special Wilds', 'Sticky Wilds', 'Random Wilds', 'Walking Wilds', and so forth. I mean, does it get any more specific than that?
This level of labelling, in my opinion, really sets the Winny slots experience apart from what I have found at other online casinos. And it really helped me enjoy my game play and even discover new slots along the lines of my mood at any moment.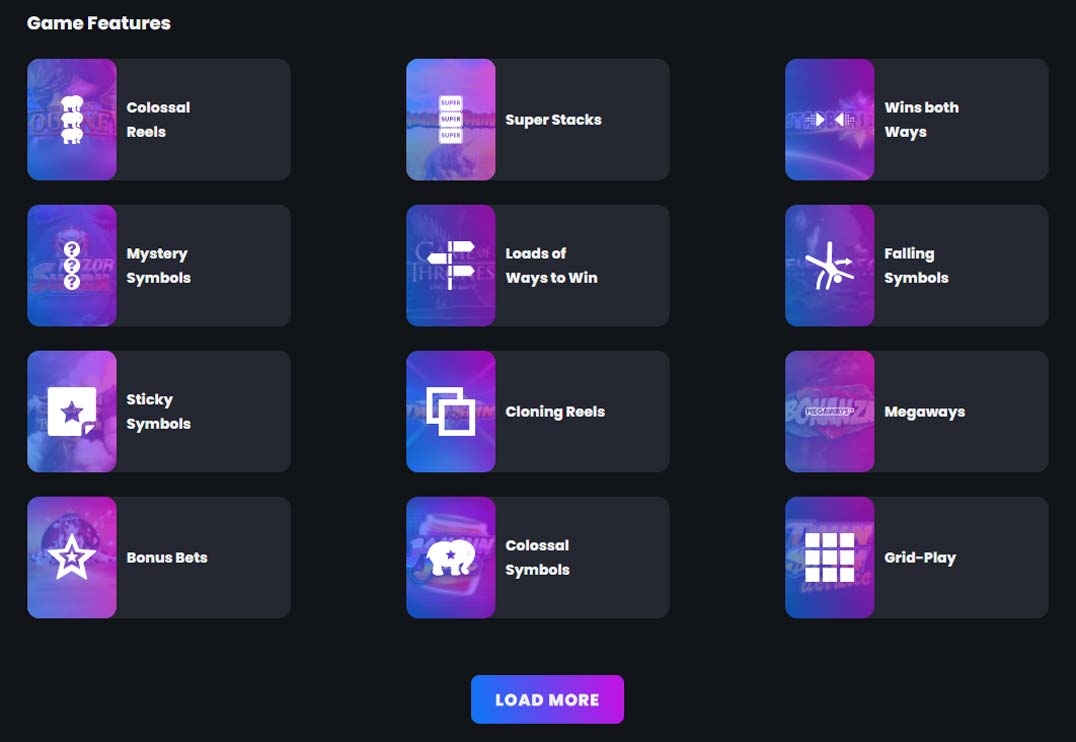 As for jackpot slots, they of course warrant their own category here, and come in a nice variety. Again, they are perfectly labelled as 'Mega Jackpots', 'Big Jackpots', and 'Mini Jackpots' so you know what level of progressive prize you will be vying for.
And while slots and the live casino (which I'll get into in a second) are by far the biggest draw here, if you are interested, there are a number of table games too. Again, if you want to read more on the matter, please feel free to click to the full Winny games review below.
Winny Games Players Prefer
With so many casino games on offer and so many new games being added to Winny on a regular basis, it can admittedly be hard to decide where to begin. For my part, I can say I often look under categories like 'Popular Slots' to give me an indication of what others are playing, and try them for myself. Or, since as a casino reviewer I'm always on the lookout for new favorites, I'm also a big fan of the 'New Slots' section.
But we're talking about you, not me here, so let me help you out with a few recommendations in terms of Winny games pretty much all players love. And by the way, if you want to first give them a try without any real commitment, most Winny games can be played for free. Furthermore, all Winny games are mobile optimized, so take everything I say in this review as being applicable to the mobile experience as well.
Book of Dead

The Rich Wilde and Book of Dead slot machine from Play'n GO has been a player favorite for a number of years running. And what's not to love? Egyptian themes always make for great entertainment. And 5-reel, 3-row play with 10 adjustable paylines makes it simple, yet engaging enough, especially thanks to the graphics, background music, and general sound effects. As for wagers, you can bet as low as 0.10 per round, so it's not too much of an investment. And the RTP is a very sound 96.21%.
Big Bad Wolf Megaways
Megaways slots are very cool. How's that for a concise summary and endorsement in one? But really, I love the format and the thrill of the mega number of ways in which you can win (hence the name). While we all have our own preferences in terms of exact theme, Big Bad Wolf slots are a great place to start – with a timeless fairytale motif and potentially big payoffs.
Mega Wheel
The live casino game shows are a big hit with players, and arguably none more so than Mega Wheel from Pragmatic Play. A thrilling game of chance, all you need to do is predict where the big wheel will land. There are 54 segments of different colors from which to choose. No easy task, but loads of fun, and if you're lucky, very rewarding! Plus, the live hosts make the action simply pop.
Besides the innate fun this game offers, there is also a special tournament promotion connected to Mega Wheel play in which an additional €25,000 in prize money is awarded per week.
Popular Winny Slots Games
With over 3000 online video slots on offer, Winny is hands down a top pick for this mode of play. And honestly, I don't say that lightly. Having been around enough online casinos to spot the differences, it is abundantly clear that Winny has one of the biggest selections of slots around.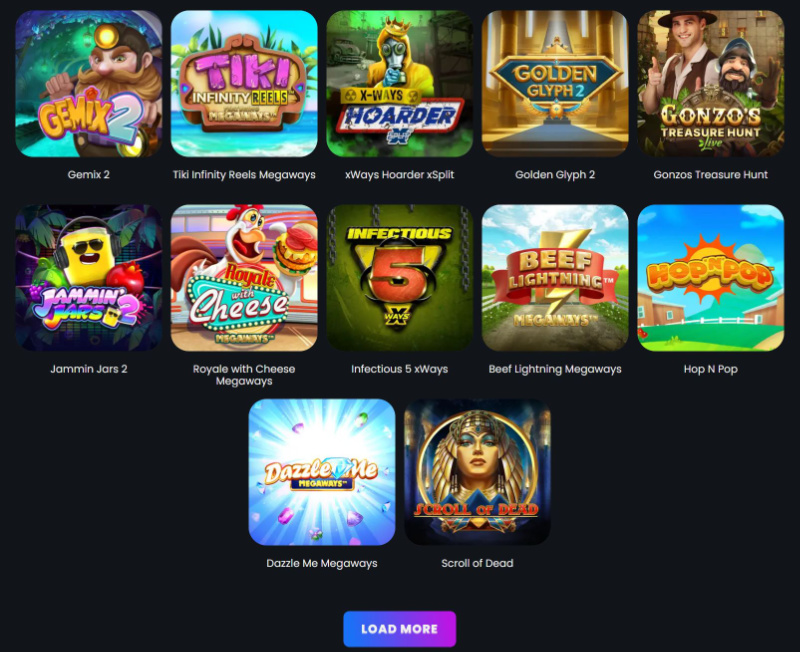 And finding what you want couldn't be easier. That's because as I mentioned above, Winny has amazingly precise categorization. That means you will be able to visit the casino library and choose slots based on features as specific as 'Bonus Buy', 'Big Multipliers', 'Pick and Win Bonus', or 'Re-spins'. Or you can choose by wild feature like 'Special Wilds,' 'Sticky Wilds', or 'Random' Wilds.
And if that isn't enough, there are also theme categories from which to select like 'Book-themed Slots', 'Fruity Slots', 'Dragon Slots', and 'Egyptian Slots'. Really, I am hard pressed to think of an online casino that is even comparable on the slots category front. As for my recommendations, there are too many to list. But for a small taste, you can start with these three.
Fruit Party
Fruit machines are the true classic slot format. As such, I couldn't possibly make a slots recommendation without including such a title. While I chose to highlight Fruit Party from Pragmatic Play, I would recommend Jammin' Jars, Jammin' Jars 2, and Papaya Pop no less. Fruit Party simply happens to also have the awesome Drops & Wins feature attached to it, with extra random cash prizes. And of course, I also love the fun, joyful, fast-paced play on the 7X7 grid.
Gem Blast
Since gems and jewels are also popular slot themes, I had to highlight at least one title from this category as well. Brought to you by Endorphina, Gem Blast has 10 lines, 3 rows, 5 reels, and the ability to win both ways. As is always the case with precious jewels, here too rarity is the key to value, or in this case bigger wins.
Avalon II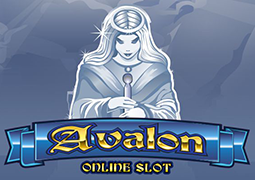 The legend of King Arthur and the Knights of the Round Table never grows stale. And neither does the Avalon II slot game, based on the theme. Created by world class casino developer Microgaming, Avalon II slots also happen to have a relatively high RTP at 97%, and payout a top prize of a whopping 120,000 coins.
Jackpot Games at Winny Casino
Although all of the Winny jackpot games are technically slots, as is the case at most online casinos, the genre deservedly gets its own category here. And like the slots themselves, the Winny jackpot games are also conveniently compartmentalized, this time under the intuitive categories 'Mega Jackpots', 'Big Jackpots', and 'Mini Jackpots'.
In the mega jackpot category alone, there are currently 13 games listed. And these include some of the biggest and best progressive jackpot games around like the NetEnt giants Mega Fortune, Divine Fortune, and Arabian Nights. Plus, you have a bunch of the Microgaming Mega Moolah slots in there like Juicy Joker Mega Moolah, Immortal Romance Mega Moolah, Absolootly Mad Mega Moolah, and Atlantean Treasures Mega Moolah.
All and all there are over 100 games with jackpots up for grabs which you can enjoy at Winny. Since tastes, budget, and an appetite for risk differ, I strongly encourage you to visit the Winny jackpot section in the casino lobby to get a better impression of all the options available.
Classic Winny Casino Games
To be frank, Winny casino is undoubtedly predominantly an online slots establishment. And after that, which I'll get to in next, a place to play live casino games. That being said, it does have a smaller, though highly adequate number of classic casino games listed under the 'Table Games' tab. Realistically, what you choose to play is a matter of taste. A blackjack lover and roulette enthusiast are two different things. But just to give you an idea, I'm highlighting a few of my top picks.
Multifire Roulette
If you're looking for a slightly different spin on a roulette game, Multifire Roulette is a great choice. Released in 2020 and developed in unison by Microgaming and Switch Studios, this exciting version of online roulette has a 97.30% return to player, a 48.65% hit rate, and a top prize of 5000X your bet. Other roulette titles of interest include Golden Chip Roulette, Roulette Royal, Sapphire Roulette, and classic European Roulette. Of course if you prefer one of the other titles, that too is totally legit .
Premium Blackjack
For those who want to take a seat around the virtual blackjack tables, there are plenty of games in this category as well. Premium Blackjack offers a nice assortment of side bets for additional wagering beyond standard game play. Smartly designed, with a low house edge, and rules that work to your advantage, this Playtech blackjack table is a whole lot of fun.
Texas Hold'em Plus
For those who like card games, Winny casino also has lots of those. Texas Hold'em Plus is one of the more popular ones, but there are others like Casino Stud, I Luv Suits, and Mississippi Stud that are well worth playing as well.
Winny Live Casino
As I just alluded to, besides the tremendous, and dare I say unrivalled online slots offering, Winny is stupendous on the live casino front. And I do not say that lightly.
For my part, while I do particularly love online slots, I am also a huge fan of the live casino genre and really like the real-time, true to life action it delivers. And since I don't live next to an actual casino (as much as I'd love to), these type of games really give me the experience I'm after in terms of interactivity and actual thrills.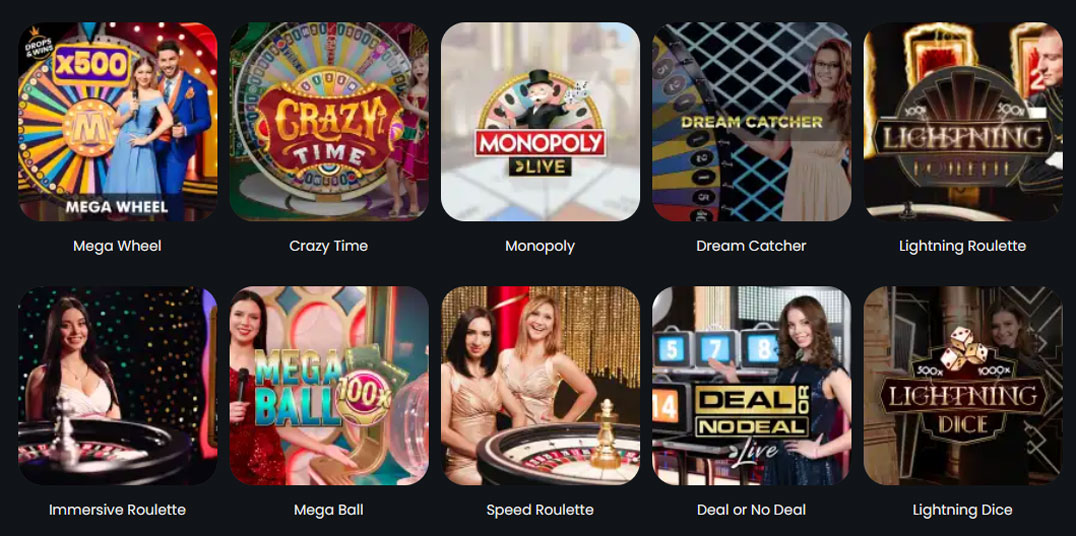 Again, like the slots, the live casino is categorized exceptionally well, so you can find the exact type of games that you want to play. There are the obvious basic categories like 'Live Roulette', 'Live Blackjack', and 'Live Gameshows'. But it is the specifics like 'Live Casino Beginner' and 'Pro Tables' that really stand out.
But categories aside, let's just say, powered by a combination of Pragmatic Play and Evolution Gaming software, the Winny live casino is an absolute winner.
Since there are over 200 live games, you are sure to find titles you are familiar with from other online casinos here, if that's what you are after. The huge range, however, will also give you the opportunity to discover new favorites, with the awesome live hosts, live dealers, and live croupiers.
Safety with Winny Casino
Needless to say, and sorry for getting to this so far down in the Winny review, but I absolutely would not be writing this article if I had any doubt about the safety and security of the casino experience. For me, a poor safety record is a non-starter. So rest-assured, gambling at Winny is completely safe.
But it's not only my gut saying this. It is the strict safe gambling protocols that Winny clearly has in place. For example, right away, as soon as you create a Winny account you are shown the safe gambling policy and tools, which you can set to create personal limits in terms of how much time or money you spend onsite.
Also, a nice touch, to help you keep track of time, there is a live ticker on each page of the website, so you can see exactly how long you've been active during each gaming session.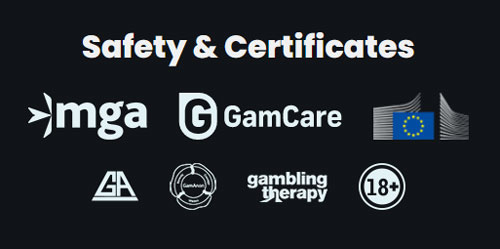 You can also look in the site's footer to see the safety certificates Winny holds. Foremost, this includes the Malta Gaming Authority license. In addition, there are links to GamCare, the European Commission, Gamblers Anonymous, Gam-Anon, and other help organizations.
Since all games are from reputable software developers, you can also be rest-assured that they are all completely fair, with 100% random results. And of course, since this is a reputable and regulated online casino, there is a strict 18 and over policy to prevent underage gambling.
Winny App
Pros:
10% cash back every week (with zero wagering requirements)
3000+ mobile slots
200+ live casino games
Cons:
EUR (€) is the only accepted currency
Oh, and I almost forgot – mobile gambling. Nah! How could I forget such a thing? Just took me some time to get to it. Perhaps since to me it seems so obvious.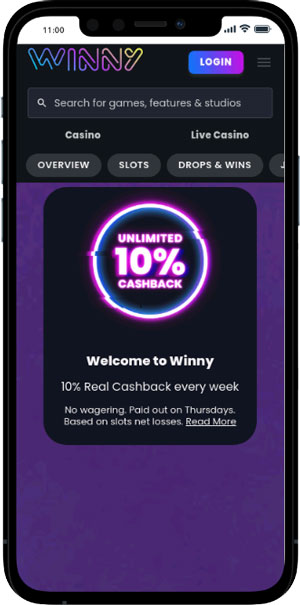 As a relatively new online casino Winny is of course 100% mobile compatible. This means instead of downloading a casino app the old fashioned way, the Winny website is programmed in HTML5. And this, in simple terms means that the website will then auto adjust to any device and screen size.
So if you want to play Winny on your Android, or if you're looking to log in to Winny from an iOS device, all you have to do is open the casino on any mobile browser. The full casino offering is then available from there in its entirety, looking great and performing well. Convenient right?
Review and Rating of the Winny App
Having been launched in 2020, Winny is a relatively new online casino. That means it doesn't have any of the legacy technology you might associate with older casinos, like the casino app. You remember that? For a while you could scan a QR code or click a link and download the casino app to your Android or iPhone. Usually these were separate experiences of course, as each mobile operating system has its own unique demands. Thankfully as technology has evolved and HTML5 programming became prolific, there is no longer a need to download a casino app. Instead, you can simply play Winny mobile from any handheld device, with any operating system, browser, or screen size.
True, there are advantages to a Winny casino app, like that little one click icon you'd have saved onscreen making it perhaps a bit quicker to access. But other than that, a mobile website, to me, is better.
That is because it creates a unified experience between mobile and desktop play, ensuring that every single element of the casino is identical on whichever device you are playing. Most importantly this includes the entire catalog of mobile games, which previously didn't automatically translate.
Put in practical terms, as a browser-based casino, rest assured that all 3000+ Winny slots are available as mobile slots and all 200+ live games are available from mobile as well. The banking works the same. The bonuses work the same. And the customer support works the same. You got it – mobile is the same!
And since I love Winny casino as a whole, I can rate Winny mobile equally well with a grade of 8.8 out of 10.
Which Devices Are Compatible with Winny Mobile?
Apple, Samsung, Xiaomi, ASUS, Vivo, iQOO, OnePlus, etc. The reality is, Winny mobile works well with any smartphone or tablet that runs on an Android or iOS operating system. Now that being said, it is possible, if you're a collector of old artifacts that you may find a first generation iPhone that doesn't work well with Winny. But I find even that hard to believe.
HTML5 programming ensures the whole casino scales perfectly, so that you can see all of the graphics and command buttons clearly, relative to your screen size. And it doesn't matter which mobile browser you are using either. Winny works equally well with Explorer, Safari, FireFox, Chrome, and all. Really the only issue is that of internet connection. Which I'm guessing again shouldn't be a problem as most of us are connected pretty much 24/7 these days.
So as for the question which devices are compatible with Winny mobile, the answer is basically a resounding all.
Mobile Table Games
Now all that adds up to a lot of mobile games, right? But wait. There's more. The mobile table games! Yep, Winny of course has them too. And again, don't worry about the small screen size. Games like roulette will flip to landscape view to broaden the picture, so you don't miss out on the details. Other options include mobile blackjack, mobile baccarat, and all sorts of mobile poker and card games.
Other Things to Know About Winny Mobile
Finally, I'll just say, while the mobile games are central to the casino review process, I would be irresponsible if I didn't give some of the elements at least a cursory mention.
So just to reassure you, the full casino offering is translated, as is, to mobile. That means there are no mobile bonuses per se. Rather offers like Winny's weekly 10% real cash back bonus is automatically yours every week that you play slots on mobile as well. In fact, just know, if you jump back and forth between mobile and PC play, any losses will count towards this awesome cashback bonus. Similarly, any bonuses or promotions that are sent to you via email or SMS can be redeemed and played on mobile.
As for mobile support, it too is exactly the same as you would find on a computer. Just look to the three lines in the top left corner, click and then open the 'Live Chat' link. Simple as that.
Winny Website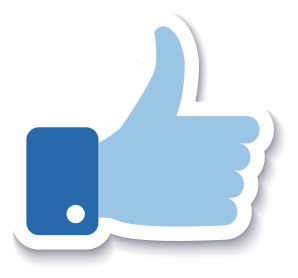 And finally, I just want to share a few basic words on the Winny website. Overall, in my opinion it
looks great
. I like the neon retro style, and for the most part, the site is pretty easy to navigate. For those who are interested, I'll point out, that in addition to being available in English, the
full Winny website
is also available in German and Finnish.
As for restricted countries, there are quite a few listed. And it is not easy creating an account from one of these countries. In fact, while on vacation when I tried to create a Winny account without a VPN in a restricted county, the casino actually let me complete the full process before rejecting me based on location. If, however, you are insistent on creating a Winny account from the US, for example, I'll give you a tip (but don't say you heard it from me). From my experience, a free VPN service will solve any such problems, and you can easily do so if you set your IP address to one of the accepted countries. But again, do so at your own discretion, as officially it is not allowed.
Our Conclusion to Winny Casino
So that in a nutshell is my comprehensive review of Winny casino. As you may have noticed, I am extremely enthusiastic about the Winny games including the range of online slots and live casino games in particular. Just fantastic!
True, there were a few elements I was less excited about, like the euros only banking, but that's a smallish technicality that is easy enough to work around.
Overall, it's fair to say, that I really like Winny casino and fully intend to come back and play. And if you're looking for a recommendation, I'd definitely give you mine. That is, Winny casino is a great choice for the type of player who is after excellent games.