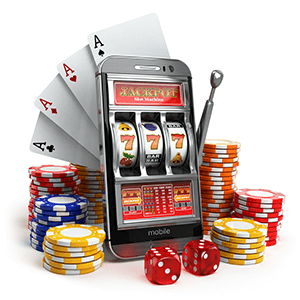 Mobile gambling is one of the upsides of online casinos. The ability to play casino games on the web made it possible to play on any device that can access the internet. It took a while for mobile casinos to catch up after desktop casinos. A mobile casino is designed to provide the features of an online casino on hand-held devices. It means that a gambling platform has to be tailored to function with mobile operating systems. Over the last decade or so, gambling enterprises put resources in developing applications that simplify gaming on mobile. Now, players have mobile casino apps to use on their devices. These tools are made to be compatible with popular systems such as Android and iOS. Besides native apps, you can access casinos through mobile responsive websites. This option is available for casino sites that don't have exclusive apps. We put together this review about mobile casino software to give insights into the products that are available for gamblers.
Different Kinds of Smartphone Casinos
In regard to operating systems for smartphones, gamblers have several choices. The increased usage of smartphones has fuelled the demand for more products. Apple and Google are the top players in this market.
iPhone
Casino apps for iPhone are designed to work exclusively on the Apple smartphone. iPhones set the pace for all smartphones when the first-generation device came out. Apple continues to dominate the smartphone market and, therefore, it makes sense that gambling companies would take advantage of that. iPhone casinos are famous for their quality in performance and aesthetics. We tested several iPhone platforms and were not disappointed. The gaming catalogue may not be the same as the desktop site, but the experience is not any less different just because you are on a smartphone. A majority of mobile casinos will have a download option for iPhone users
---
Android
A huge selling point for Android mobile casino software solutions is that you can get them on millions of devices. Google licences its OS to third-party manufacturers, meaning that it runs on different phone makes and models. Android phones offer a host of features that iOS users miss out on or have to wait a while before enjoying. These smartphones also provide customisation options. Casino apps for Android are not available on the Play Store, requiring users to download them as APK files. A casino will usually provide the link for the files, and all you need is to install the app manually. The quality of the gambling platform depends largely on a specific device.
---
Others
Several other operating systems for phones are available like Blackberry, Windows and Tizen. Most casinos don't have apps that are compatible with other OSes apart from Android and iOS. Customers have the alternative of playing on their browsers. For example, if it's a Windows smartphone, you would go to the browser, find the casino and log in directly as you would with a regular platform. A mobile website with a casino is built to adapt to the size of the screen. As with native apps, games on a mobile site are limited. The advantage of not downloading a casino application is that you don't have to worry about an app occupying excess storage.
Play on Tablet
Tablets are the perfect compromise when looking to gamble on mobile but on a bigger display than on an average smartphone. Here are three of the top tablet options on the market.

---
iPads
iOS is one of the most used operating system for tablets. iPads have become commonplace in different sectors such as business and education. Now gamblers can play their favourite casino games on their tablets. An iPad casino runs similarly to an iPhone casino. Players can enjoy almost all the features that they would get if playing on a Mac. A few elements might be different like the size of the game library and the type of promotions. One thing iPad casinos have going for them is the superiority of the operating system. Gaming on iOS guarantees great resolution and speed. iPad also offers robust security.
---
Android Tablets
iOS might be popular, but Android is the dominant player. The operating system runs on about 70% of all the tablets. It's one considerable advantage that the OS has. You can download Android casinos on numerous devices. Expect decent gaming and more game options than you have on iPad. Another plus point is that you can find Android tablets with large displays that make playing interesting and simple. Casino apps for Android allow you to transact with various payment services, meaning enhanced convenience for you. The security on Android tablets is good, but the exact tools available will vary from one manufacturer to another. Gaming performance doesn't change much compared to a standard site, but not all games are available.
---
Amazon Fire
The Amazon Fire tablet is preferable for particular needs like reading and learning. With a connection and a browser, you can gamble on your Fire tablet. The device is suitable for no-download mobile casinos. With these platforms, the games use the HTML5 mark-up language. Players don't have to get native applications to access the games. You need not worry about multiple casino apps eating up the memory of your tablet. Although the device has limited storage, you can use expandable memory to ensure that it can support your gaming needs.
Our Recommendation to Mobile Casinos
The ideal choice is a matter of preference. It depends on the kind of device you are using, your needs and the choice for casinos available. Take the time to find a mobile gambling platform that delivers a worthy experience. We assembled the pros and cons of each operating system for mobile casino so you can make an informed selection.
iPhone Casinos
Impressive quality
Legitimate gambling platforms
Android Casinos
Large selection of devices
iPad Casinos
Android Tablet Casinos
Compatibility with numerous devices
App not available on Play Store
Fire/Amazon Tablets
No download necessary
Can use SD card to store more games