Pros:
Complete mobile crypto gambling
Over 2000 casino games
Unique titles you'll find nowhere else
Excellent payment terms
Cons:
Fiat currencies (like USD / EUR) not accepted
Limited number of jackpot games
---

Launched in 2017, Stake casino is one of the most popular crypto casinos around. Players the world over appreciate the ease of use and overall friendly terms this reputable site offers.
Fully licensed and regulated, and localized in 15 languages, this browser-based casino has been developed with convenience and player preferences in mind. This means a single experience across desktop and mobile.
And here we get to the core of this review. The Stake mobile experience. There are over 2000 mobile optimized games, from more than two dozen of the best casino software providers, all of which are provably fair.
And with eight different crypto currencies accepted including Bitcoin and Ethereum, plus instant banking including withdrawals – Stake mobile delivers the ultimate platform for crypto gambling on the go. Now for the details…
Review and Rating of the Stake App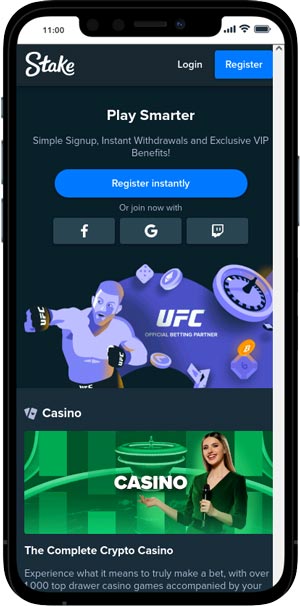 The Stake casino app for those searching, is actually a browser-based experienced. That is, there is no Stake casino app to download, whichever operating system you are using. This includes playing at Stake from an Android device or one with an iOS operating system like an iPhone or iPad.
True online casinos used to offer such a thing, but in recent years, all the big casinos have moved to HTML5 casinos that work perfectly well on all browsers.
While we too have seen questions on Stake forums asking about the development of an app, it doesn't seem like one is in the making. But we will of course update you should one be released.
In the meantime, from our Stake mobile casino review, we can tell you that the website works perfectly well on all smart phones and tablets. This means the site shrinks down to the size of your screen, with all commands and buttons remaining legible.
The interface is slightly different than when playing on a desktop, but some of us even found it more intuitive when accessed on mobile. Really, that's a matter of personal preference though.
All functions work really well too, like the mobile banking, so you can, for example, easily cash out on the go.
Also, though obvious, we'll point out that only a single account is needed. That is, you can play interchangeably with the same Stake account on mobile and on desktop. And if you're collecting points towards your loyalty club ranking, they'll count from any device on which you're playing equally.
Overall, we could not find any flaws in the Stake mobile experience and so we've given the Stake app a rating of 9.4 out of 10. Yes, that seems high, but why try and find fault when there aren't any?
Which Devices Are Compatible with Stake Mobile?
If you're wondering which devices are compatible with Stake mobile, it might be easier to answer which aren't! If you look hard enough, and get obscure enough, you might just be able to find one. But from our experience, if you have an Android phone or a tablet, certainly from within the last few years, you should have absolutely no problem in accessing Stake mobile and enjoying its offering in its entirety. The same can be said of Apple devices, on which Stake works equally well.
This is not a coincidence, mind you, rather done by excellent design. That is, Stake is programmed to be compatible with different screen sizes and different web browsers for a universal experience.
And no Stake VPN should be required to access it either. That is, the Stake mobile casino works from anywhere in the world as well, with as far as we can tell no countries blocked (though there are officially restricted countries).
Furthermore, since there is no casino app to download, rather you're playing from your mobile browser, there are less limitations. In other words, you don't have to worry too much about having the latest operating system or how much memory the casino app is going to take up (in this case none). It's all just smoother sailing really.
Stake Mobile Games
What Stake offers more than anything is the unique opportunity to gamble on a huge number of casino games in Bitcoin or other digital currencies. And what Stake mobile does is let you extend this thrill to the convenience of your handheld device, with no limitations on the games you can access.
That is, the full 2000+ Stake game catalog is available on both desktop and mobile. So you'll never find yourself wondering why a game you'd seen on a different device seems to have disappeared. They're all there and easy to find from the Stake casino lobby. And aside from the jackpot and live casino games, pretty much all of them can also be played for free.
Mobile Slots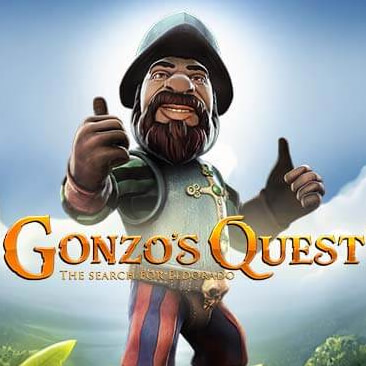 Of course, if you want to narrow our Stake mobile review down a bit further and get a better understanding of the mobile slots per se we can tell you this:
Stake has 1108 slot games currently available (though in all honesty that number is always growing), and absolutely all of them are available for mobile play.
There are traditional fruit machine games, plenty of standard 5-reel games, and even 7X7 grid games. The themes are varied, the max bets are suited to different budgets, and the bonus rounds can deliver great thrills.
All and all, this makes Stake probably the best option for mobile crypto slots around.
---
Live Casino for Mobile Players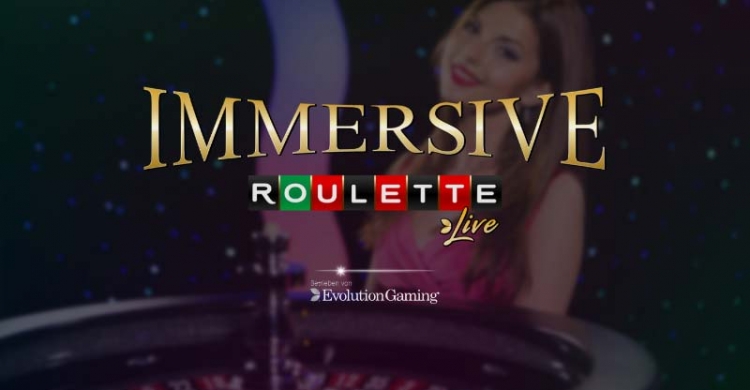 Another benefit of Stake mobile is that it offers full access to live casino games. This means you can play any of the live table games or get in on the game show action from the convenience of your cell phone, from any location, any hour of the day.
True with a smaller screen size it may feel a tad bit less lifelike than when you play from your giant TV screen, but we still find it super fun. And with Evolution Gaming powering the experience, so long as you have a good, steady internet connection you should be in for a blast.
---
Table Games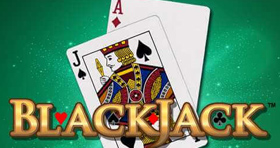 As for Stake mobile table games like blackjack or roulette, there are plenty of great options from which to choose as well.
Again, the mobile table game action is the same as you'll experience from your desktop, just shrunken down to size. So if need be, simply get your reading glasses out – all the details are there. Kidding. For most players, even the intricacies of the roulette wheel should be easy enough to see.
Our Conclusion on the Stake Mobile App
Overall, if you've read this full Stake mobile casino review our opinion is obvious. And that is that we are more than satisfied with the Stake mobile experience.
When writing our reviews, we have a certain bar, with the basics in mind, and Stake far surpassed each of those. The site is fully mobile compatible down to the smallest details, the navigation is intuitive, the game offering is tremendous, and really it's just one of the best mobile casinos around – with the advantage of being able to gamble in crypto.