Mr Green contact details:
Tel No: +44 20 71979541
Live chat: 'Chat with Us' section
FAQs

About Mr Green Customer Service
The gaming industry is pretty competitive, and it's up to the operators to use every possible strategy to keep its customers happy. Satisfying customers who aren't too delighted to drop $300 at the roulette table in a matter of minutes is not a walk in the park. Many casinos have resorted to setting up exclusive customer support centers to achieve what every operator wants from its clients- loyalty. Mr Green invests a great deal in its customer support center to ensure all its clients are happy. As such, it has set up several contact channels to accommodate the diverse needs of its clientele.
How to Contact Mr Green Customer Support?
As earlier highlighted Mr Green has set up different customer support channels. Here's a brief explanation of each:
• Telephone number: Customers can access the casino's support representatives by calling Mr Green number: +44 20 71979541. The representatives are available from 6 am up to midnight CET time 24 hours a week for seven days. As such, users should expect to access the contact center during holidays.
What's more, the representatives not only speak in English but also Swedish, Danish, German and other languages. Mr Green customer service number is not toll-free hence, local charges are likely to apply.
• Email: Users can also contact the casino via its email address: customerservice-international@mrgreen.com. It is the most convenient way of communicating with the casino representatives if you are not solving an urgent problem. The response time is pretty long compared to other support channels as it can take up to 24 hours.
• Live Chat: It is the fastest way to get your issues heard and solved. The casino has a 'Chat with Us' icon where users can talk to an agent directly. The representatives are available 24/7 and speak in different languages, including English, Danish, German and Swedish.
• FAQ section: The casino set up this section to reduce the amount of time required to solve frequently asked questions. Players are likely to ask questions regarding bonuses, promotions, withdrawals, and deposits.
About Mr Green's FAQs
To make every player's gaming experience enjoyable, Mr Green casino has compiled a list of the most frequently asked questions. The casino updates the page regularly with the latest FAQs to ensure players find solutions to all their problems. Mr Green casino has separated the FAQ's into five sections: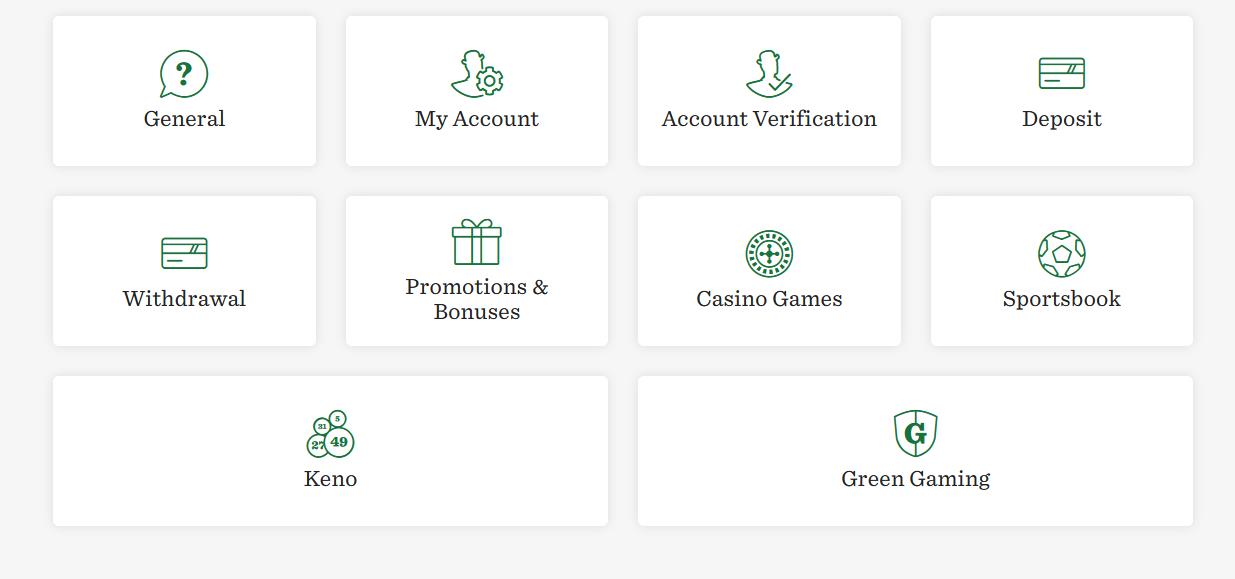 • General questions: This section provides answers to questions regarding how to play using mobile devices, how to contact Mr Green customer support and other general issues.
• My Account: This section addresses problems relating to the player's account. For example, how to deal with a blocked account, how to change your email and home address, and how to cancel a subscription, to mention a few.
• Verification of the account: This part helps players to understand the importance of verifying an account and how long it takes to verify the account.
• Deposit methods: Here, players can find crucial information regarding how to deposit, how to change the deposit method, how to add or delete a credit card and fees associated with deposits.
• Methods of withdrawing cash: In this section, players get to address problems regarding how to request a withdrawal, how to get the withdrawal approved, fees charged on withdrawals, available withdrawal methods and terms and conditions for withdrawing bonuses.
• Promotions and bonuses: This part enables players to familiarize with welcome bonus offers, ongoing promotions, other bonuses available, and the wagering requirements for bonuses.
• Casino games: This section allows players to get acquainted with the rules of different games, their RTP, if there are Live casino games available and how to save bets on their preferred games.
Does Mr Green Have a Live Chat?
Mr Green casino has a live chat platform on the section 'chat with us.' The live chat feature allows players to contact customer representative directly. Mr Green casino only added this feature recently to provide round-the-clock customer care. Earlier on, the casino relied on email and telephone customer service, which took a long time to respond to customers. The introduction of the live chat platform, however, meant that players could get a response at any time. Our review showed that the inclusion of a live chat platform not only increased player satisfaction but also enhanced engagement. Integrating a live chat platform also increased the player's chance of continuing to play rather than situations where players leave because they can't find answers.
How Quick Can You Get Help with Mr Green's Customer Support?
The response time differs based on Mr Green customer service used. We found that emails had the longest response time as it extended up to 48 hours. Players should only use this customer service when they are not looking for prompt responses. However, Mr Green support team tries as much as possible to respond to all the customers' questions as soon as possible. Players using Mr Green number should expect prompt responses. The casino is well-endowed with a large team of customer representative to ensure clients get fast responses. The live chat platform has minimal waiting time usually within a few minutes as many people use this channel to contact the representatives.
Our Rating on Mr Green Help Center
Admittedly, customer service is a critical feature for any online casino site. Clients rely on it to solve problems such as difficulty in accessing money, playing games, and making withdrawals, among other issues. During our extensive review on Mr Green Customer Support we looked at three essential features for any customer support service: availability of multiple customer support channels, the response time and how well the representative handled the question.
On a scale of 1-5, Mr Green help center scored exceptionally well for all the three features. First, Mr Green has four customer support channels, including email, FAQs, a live chat platform and telephone contact. The highlight of the support platforms is the live chat option as it enables players to contact the support team directly 24/7. The waiting time is pretty reasonable for all the platforms, and the support team is knowledgeable about all the questions asked and eager to help.