Magic Red Customer Support
Magic Red Contact Details
Telephone: 356 22585000
Email: support@magicred.com
Live chat: Contact Us page
Get 200 % up to 500 $ and 100 Freespins
---
About Magic Red Customer Service

What is an online casino without decent customer support? The right answer is nothing. Left and right, casinos lose customers for failing to give them the attention they deserve. An operator could have two decades in the industry, hundrets of games and dozens of promotions and still lose the loyalty of a customer due to poor support. Magic Red casino might not have many years in the gambling sector, but it grasps this point.
The casino didn't always have the best reputation, but its dedicated customer support is helping change that. Magic Red has spent time and resources to clean up its name and earn the respect of its customers and peers. It ensures that users have the necessary assistance whenever they require it, from anywhere in the world. Customers have several ways to reach the casino. Magic Red excels in its VIP services. Exclusive support in among the perks the casino has for members in certain VIP levels. We tested the Magic Red customer support when reviewing the casino to see what's in store for users.
How to Contact Magic Red Support?
You are depositing cash into your Magic Red account, then encounter an issue with the transaction, how do you contact the support team? Magic Red provides the main communication channels to make the process uncomplicated. As an international operator, the online casino serves an audience with different requirements.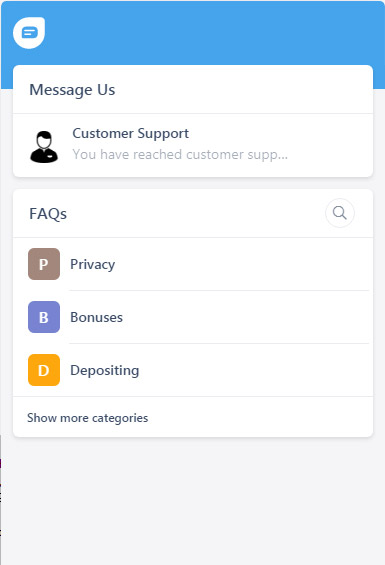 However, customer support is only available between 6.00 GMT and 23.00 GMT. The various Magic Red contact options allow customers to find the most convenient choice. Here's how to use them:
Live chat
Chatting live with a customer representative is usually the first thing we try when gambling online. It's quick, simple, and you don't have to navigate too much. On the Magic Red website, you can find the live chat by clicking on the 'Help' icon. Customers with urgent issues will appreciate the stress-free nature of this channel.
Email
Sending an email might appear like a lot of work, but it's essential in some circumstances. When you have a complex matter that might require some explaining, an email is practical. It's especially ideal when you have to attach documents. Note that email responses take longer than other alternatives. You can email the Magic Red customer care by clicking on the 'Contact Us' section in the drop-down menu.
Telephone
An old-fashioned call can get you answers in minutes. We prefer using the Magic Red customer service number for sensitive and urgent matters. If you are not comfortable relaying particular details online, you can call.
---
We always advise customers to check if a casino has a FAQs page, and Magic Red doesn't disappoint. The compiled questions available on the help centre offer certain advantages. Below, we delve more into that.
About Magic Red's FAQs
Some concerns or questions among casino users come up multiple times. Rather than have different customers bring up the same issues and spend time dealing with it, Magic Red has compiled those answers in one section. The FAQs cover a wide spectrum, which benefits the customers and the support team. If you can find the answer in this section, it eliminates the need to call, chat or email customer service.

On the Magic Red homepage, expand the menu on the top-left, go to the part marked 'Getting Started' and click on the FAQs. The list is an extensive one. First, you get the top five most-asked questions and several categories of common queries. Some basic ones are:
Privacy
Do you wish to know if Magic Red is playing fair? Then this is the section to look. Privacy FAQs explore some of the basic security concerns when playing at an online casino. You can learn about the operator's governing body, importance of verification and data protection.
Bonuses
This category covers everything to do with bonuses. If you are unclear about claiming bonuses or rejecting them, this area clarifies such matters. Get answers regarding wagering requirements, promotions policies and frequent complaints.
Depositing
Magic Red presents the available banking methods in this section. When you click on a particular service, you receive information about transacting with it. New users can learn how to deposit and track transactions.
Technical
The more technical information about using the casino is here. Find out about opening a Magic Red account, changing passwords and navigating the website. Or how to allow and not allow cookies and everything else.
Does Magic Red Have a Live Chat?
Yes. Users can contact customer service through the Magic Red chat. Both the mobile and desktop platforms give you access to the chat feature, which is convenient. The huge plus side of live chat is that you can send a short message and receive a reply in seconds, depending on a casino's response time. Using the chat feature is easy. On the desktop site, find the 'Help' button and click. For a mobile user, click on the 'Chat' icon on the drop-down menu. Unfortunately, the dialogue box doesn't open right away. You must submit your email address before proceeding to chat. Most people won't mind, though because it only takes seconds.
How Quick Can You Get Help with Magic Red Customer Service?
When rating a casino's customer support, the response time is one element that sways our decision. The method you use to contact Magic Red support determines how long you have to wait. We found that the operator has excellent response times. You have to wait less than 30 seconds to chat with an agent live. Email is anything between 15 minutes and an hour while calls have waiting times of about two minutes. Remember that the customer care team is not available 24/7. Therefore, your timing must be ideal. Peak hours such as in the evening can increase waiting times considerably.
Our Rating of Magic Red Support
Magic Red adapted a unique principle to help it users. C.A.R.E means Customers Are Really Everything. With this motto as its foundation, the casino built a customer service team that is all about the user.
The Magic Red customer support is efficient, reliable and trustworthy. Of course, it has its shortcomings, which most people can ignore. The fact that the support is not available around-the-clock is a letdown, considering the casino has customers in different time zones. A well-educated support team almost makes up for this. The representatives respond to all questions intelligently and patiently, regardless of how inconsequential they may seem.