Here are some leading 888 Casino banking options:
Wire Transfer
Wire transfer is an electronic money transfer from the bank to the casino or any other institution. It makes use of such networks as Fedwire and Swift to move cash. This is the most traditional way to transact between your bank account and the casino both online andoffline.
Skrill
Skrill is an international money transfer and e-wallet where you can store send and receive cash. The payment gateway is also called Moneybookers. You can use the service to connect your mobile wallets and bank accounts as well as transact with the casino account effectively.
PayPal
PayPal is an international wallet that allows you to make safe payments and receive cash across various outlets and from individuals. PayPal is available in some regions served by 888 Casino and allows for both the deposits and withdrawals. It also has small charges for money transactions.
Review of 888 Casino Deposit Methods and our Ratings
888 Casino works with a long list of acclaimed international online payment providers that deal with the local market and international transfers. You will definitely find one of the methods that you use in your regular online purchases. They include PayPal, Skrill, Trustly, Wire Transfer, WebMoney, QiWI, Diners Card, Instadebit, and Astropay, among others. You have a choice of any of the payment methods available in your region.

You can deposit your funds in a variety of currencies, depending on where you live. Some of the common currency types include AUD, USDM Euro, Pounds, SEK, and Rubies. You must determine the currency you are going to use when signing up at the account. This currency will be used as the base for all your transactions on the account. You may be charged a fee for the exchange between various account types.
We are satisfied with the casino's list of deposit methods. It has good coverage of the common methods used for online transactions. Many of the Dunder payments options provide for instant deposits, which can be done using a mobile device except for offline services such as wire banking. The flexibility and convenience that comes with several and fast mode of deposits enable players to load and play their favorite games on the go. Most users give the deposit system 8 out of 10.
Limitations and Fee for Depositing on the Account
We found that the 888 Casino deposit limits vary according to the payment method. However, most of the methods have similar limits. The lowest amount that you can deposit at the account is $10. Some methods as online bank transfer requires you to deposit $15 while Citadel requires a deposit of $20. Wire transfers have a minimum limit of $100. On the upper ceiling, you can withdraw up to $25,000 a day. There are exceptions for high rollers at live roulette who are allowed up to $40,000 a transaction. However, this is dependent on the chosen method of deposit.
There are no 888 Casino deposit fees for many of the payment methods used at the casino. However, you may find one or two charging a percentage of the money deposited. The charges are usually less than 3%.
888 Casino deposit times are instant for many of the methods, but some may take up to a day. If the mode of deposit takes more than a few minutes, the information will be available in your account's deposit page. You can also check the support page for information on deposit issues and limits for specific methods. The customer service team is also at hand for assistance on the issue.
This casino has some of the highest deposit limits on the internet, which is advantageous to the high rollers. It also accepts very low deposits, which works for people who would like to play with low amounts. The system is efficient, fast, and secure.
888 Casino cash out
Just as the deposit, you can choose among several 888 Casino payment methods. These methods include e-wallets such as PayPal, Skrill, Neteller and Euteller, Interac Online, Instadebit, iDebit, Wire Bank transfer, and many others. Check for a list of all the available methods in your region at the withdrawal page. While you can use any of the methods for the 888 Casino pay out, priority is given to the method you used for the deposits.
You will find that 888 Casino pay-outs limits are similar across various payment methods. The minimum you can withdraw through various methods is $20 or an equivalent in other currencies. On the upper side, the maximum you can withdraw in a month is $30,000. The figure may be lower, depending on your withdrawal.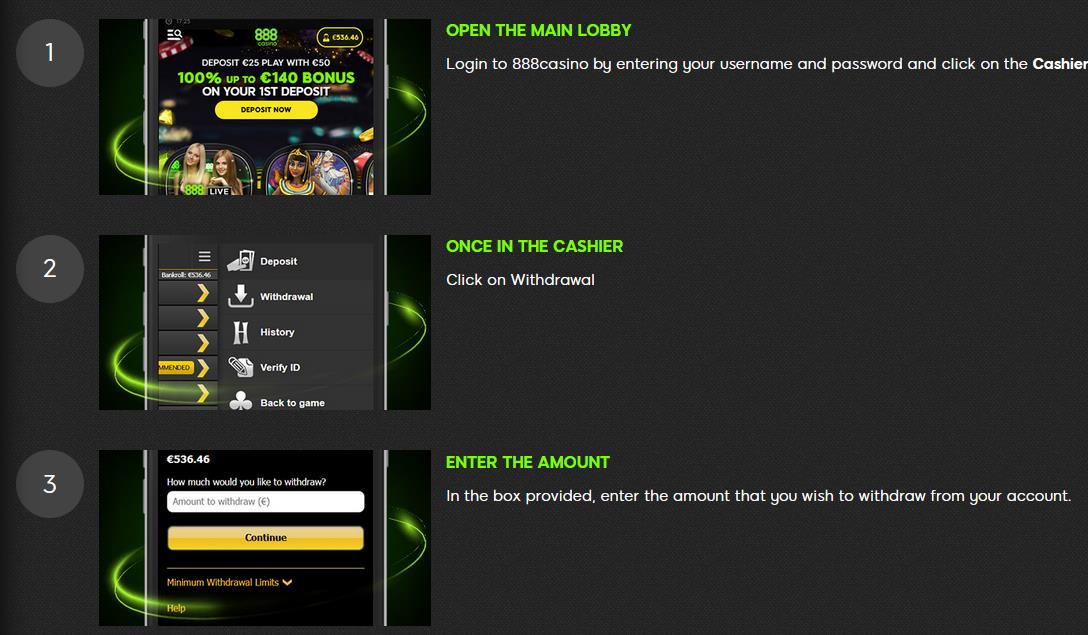 Play for Real Money at 888 Casino!
The 888 Casino pay-out time is dependent on the level that the player is in the account. Cards such as VISA and MasterCard take up to eight days to process payments for standard members but up to five days for Gold VIP members. E-wallet payments through Skrill, PayPal, and Neteller have a 888 Casino withdrawal time of up to five days for standard members, three days for VIP members and a day for Gold VIP members. On the other hand, wire transfer takes five to seven days for standard members, three days for VIP members and a day for Gold VIP members. Payments through this method in the local currency may take shorter periods. Before you get your first 888 Casino payments, you will be asked for identification documents to verify your stated name and address.
Our Conclusions
Players love the 888 Casino pay-out percentage of 96.2%, which means that they earn more than several leading casinos. You can get even more cash if you choose the highest paying games at the casino. There is a choice of several 888 Casino payment options for deposits and withdrawals from the account. You may already be using some for your online purchases.
Unfortunately, there are no instant 888 Casino Payments. Gold VIP members get their cash within a day for most of the payment methods. Other VIP members have up to three days while standard members may have to wait from three to seven days to receive their cash. Most transactions to and from the casino account are free. Overall, 888 Casino has a robust system for deposits and withdrawals that offers flexibility and convenience to both desktop and mobile users.