Overview
William Hill is one of Europe's oldest bookmakers. Established in the 1930s, the gambling outfit expanded into the casino business to cater to the growing demand. William Hill has always been good at adapting to market changes. Mobile gambling is another sector that the casino and sportsbook platform is looking to dominate. The William Hill app aims to make betting more convenient for customers. With the mobile software, players can access different games from a range of devices. You have the flexibility of playing anywhere at whatever time you please. If you want to check how much the pool for a particular jackpot has grown during your lunch break, the app lets you do that. A good mobile casino app is more than just the mobility though. With every major gaming outfit jumping into the mobile entertainment market, casinos have to do more to stand out. This review provides insight into how William Hill sets itself apart.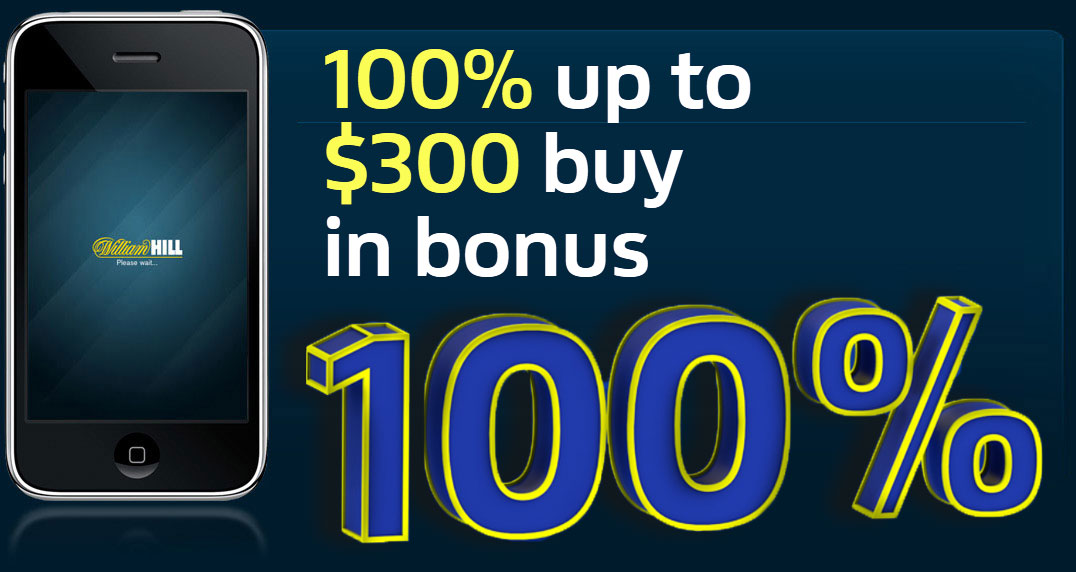 Our Rating and Review of William Hill Application
If we could pick one word for William Hill mobile apps, it would be, usable. We have come across some casino apps that are so cumbersome that playing on them feels like a job. William Hill was clever to keep the structure of the platforms simple. You can easily hop from one section of the casino to another without getting lost on the app. The layout of the games and other features saves you time as you move around the app. Games are optimised for mobile use. Because they have to open on a small screen, games launch in a reduced size. Only the basic features like the 'play' button present. For the other aspects of the game, you have to look up the menu. This optimisation ensures that the games and other offerings don't weigh down the app. The result is a smooth-running app that delivers above-average speeds. Whether you are at the roulette table or spinning your favourite slot, expect good performance from the best William Hill apps.
We tested a few other things, including the responsible gaming tools. Just because you are on mobile doesn't mean you can't control your gambling. William Hill casino app has sections for safe gambling at the bottom of the platform. Find out about how you can set deposit limits on your app. Mobile apps make it tremendously easy to log in and out of a casino, and that can make it challenging to control your gambling activities. Therefore, we laud William Hill for making certain that you can implement a few restrictions. We checked out the customer support as well. Any casino worth its salt must provide excellent customer service, and WH doesn't fail. Granted that chatting on your smartphone may not be as seamless as on desktop, but you get the necessary help in good time.
On which Devices is the William Hill Casino App Available?
You can get a William Hill app for just about any smartphone and tablet because the casino has iOS and Android apps. Go to the App Store, find the William Hill software and download for free. Alternatively, you can check on the homepage of the desktop website for the direct link to the app. You can confirm at the App Store if your iPhone or iPad is supported. If you have an Android tablet or smartphone, find the corresponding William Hill software at the Play Store. Another option is to redirect from the casino website to the download page. The Android app supports an array of flagship phones from Samsung to Xiaomi to OnePlus. You need Android Gingerbread or higher to download the app.

William Hill has separate applications for Vegas and Live. So, if you love either of these offerings, you would have to get another app. If your device does not provide enough storage to download the WH app and play from it, then you can try the mobile site. William Hill has a mobile responsive website that is accessible on multiple browsers. You can play William Hill app for free after installation to test a few things. Check out a demo or two of different game to get a feel of the software. Then you can decide if it works for you or not.
William Hill Mobile Games
WH has an expansive gaming catalogue that covers different types of games. Slots make up the bulk of the over 700 games on the casino. Only a fraction of these games is available on the mobile platforms. As with almost all online casinos, William Hill mobile games are fewer than those accessible on the regular platform. We thought the casino would have more than the 170 games it has on mobile. Nonetheless, the available selection provides a superb variety. Playtech is one of the biggest suppliers for William Hill, but customers also have products from NetEnt, Scientific Games Interactive and Microgaming. You have slots that range from fruit themes to TV shows. Players have a choice of popular and new jackpots, some of which have prizes in the millions. Check out progressive jackpots like Angel Princess, Ave Caesar and Andy Capp. If you love table games, you can play roulette and blackjack on mobile.
William Hill mobile has a live casino option as well. However, you have to get this as a separate app. The offerings vary from classic card games to game shows. Scratch cards are other alternatives that you can indulge in at this casino. If you wish to try a new game, you can play William Hill app for free. It means that you won't have to wager actual money on the chosen game. Once you have the app, launch the game you want and pick the demo version.
Our Conclusion to William Hill's App
William Hill Casino allows you to play directly in the browser or get a standalone app. In our search for the best William Hill apps, we discovered a few things about the casino's offerings. The mobile casino gives customers almost the same rewards as conventional players. A welcome bonus is available to claim just like on the standard platform. Seasonal, daily and weekly promotions are present. Some of the deals are tailor-made for the mobile customer. You get a wide variety of payment options that include virtual wallets, wire transfers and credit cards. Some of these methods allow you to complete transactions straight from your hand-held device. The casino adapted the gaming features to function adequately. Whether you are on iOS or Android, you can find a William Hill casino app that is perfect for you.