There are 4 Mr Green payment methods, namely:
Credit/debit cards like Visa Electron, MasterCard and Visa
Electronic wallets such as Neteller and Skrill
Prepaid vouchers like PaySafeCard
Bank transfers through an international wire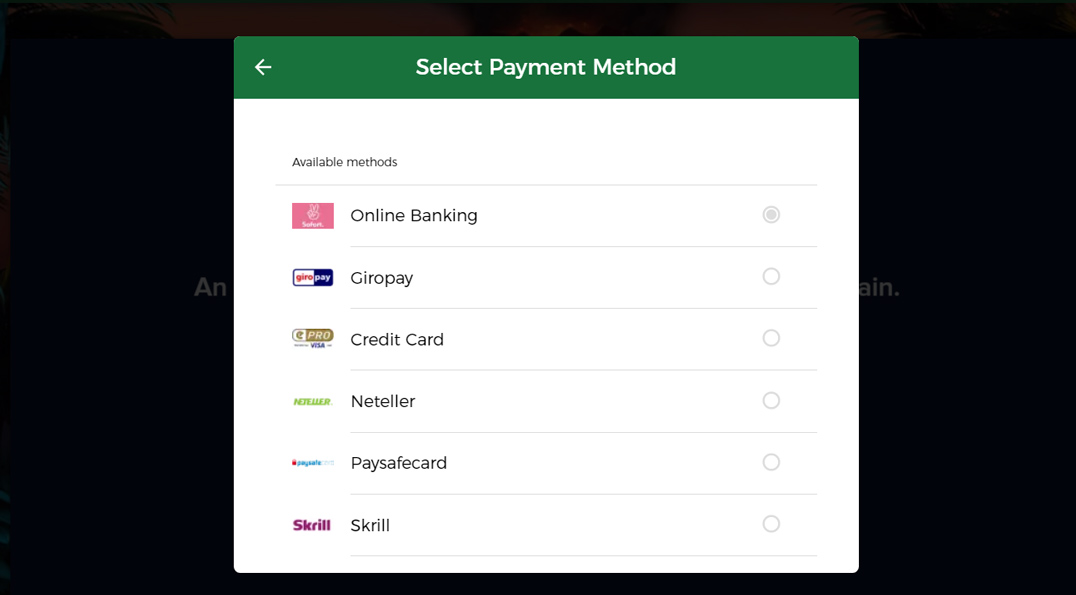 3 Top Methods of Mr green Payments
Mr Green offers a range of payment methods to cater to its ever-growing client base and provide convenient methods that allow players to make instant deposits and withdrawals. Here's a roundup of three popular Mr Green deposit methods:
Credit/Debit Cards
This payment method is similar to making an online purchase, whether you are withdrawing or depositing cash. Mr Green supports the three credit/debit networks, including Visa, MasterCard, and Visa Electron. Players whose cards don't include any of these brands can opt for the prepaid option. When making Mr Green payments, click on the cashier option select the brand you are using. You will be asked to fill in some information, including the amount you want to deposit, the log number, expiry date and the name on the card. Then, click on submit to transfer funds to your account.
Bank Transfers with Mr Green
It is a common Mr Green cash out method though players can also use it to deposit. When we were testing this payment method, we found it critical to alert the support team to clarify if we were making a local or international transfer. It also helped the bank making the transfer to connect to the correct player account. We found this payment method more useful for players withdrawing large amounts primarily due to most banks' strict rules. For example, banks hold transfers made outside banking hours up to the next day. If making an international transfer, the bank can prolong the period up to three days.
Electronic Wallet Deposits
PayPal is the most popular electronic wallet. Players need to use the attached Visa debit card option when making Mr Green deposit via PayPal. A service fee applies though most players find it immaterial. Other electronic wallet deposit methods like Neteller and Skrill allow players to transfer cash to their casino accounts without sharing information about their credit card or bank. This is a bonus compared to other payment methods. Also, electronic wallets allow players to hold some of their betting bankroll, so they can take advantage of some of Mr Green special offers. The transaction is not displayed on the bank account.
Here's a brief on how to make a Mr Green payment using Skrill:
Sign up for an account with Skrill
You will be required to verify your identity when sending cash to your casino account
Log in to Mr Green casino, click on Cashier and select Skrill
Enter your e-mail and the amount you want to deposit and submit
Then, log in to your Skrill account and click on the Pay button to approve the Mr green payment
If you wish to cancel the transaction, don't click on the button
You will be redirected to Mr Green casino where money has been deposited for play
Our Rating and Review to Mr Green deposits
Mr Green casino offers a pretty decent number of payment options. Our favorite was the e-wallet option available in three options; PayPal, Skrill, and Neteller. They are excellent options for players looking to make instant deposits without sharing their financial details. Skrill and Neteller passed this test while PayPal is ideal for players looking to credit their accounts in a matter of minutes. Our second best was the PaySafeCard option.
Being a voucher system, it allows users to credit their accounts even without a credit card or a bank account. Players only need to buy cards in different denominations ($20, $50, and $100) to deposit their accounts. The cards have a 16-digit number, which you type in. Credit and debit cards ranked third when it comes to Mr Green deposit methods. This is because players are required to share their details with the casino, which exposes them to problems like electronic fraud.
Limitations and Fees When Depositing Money
All the four payment options are eligible for depositing money to the casino. However, users need to make a minimum deposit of $10 when using bank transfers and cards while deposits as low as $5 can be made through e-wallet options. Players can make maximum deposits of up to $10,000 and the amount is credited instantly to the player's account. The casino does not charge Mr Green deposit fee except if you are using PaySafeCard method. A cost of 3.9% applies.

However, withdrawals are subject to a fee, depending on the amount you intend to cash out. Players withdrawing $100 pay a fee of $1 while withdrawals over this range attract a fee of 1% up to a maximum of $10. Withdrawals are often executed using the same method used to deposit, but if it is not possible, the amount is credited to the player's bank account. For example, when depositing with PaySafeCard, wins cashed out are credited to the user's bank account.
Mr Green requires users to prove their identity when making your first withdrawal. It is a regulatory requirement enforced by authorities to prevent money laundering and fraud. The verification process takes up to two days after which card payments take 1-3 days to process withdrawals whereas e-wallets take as little as 20 minutes.
Mr Green Pay outs
Mr Green payout percentage is often expressed in the form of return to player percentage, which shows the amount players should expect in return after winning. As such, the higher the rate, the higher the chance of winning. Note that the figure is an average of many wins over a long time hence, players should not expect short-term returns. The RTP is expressed in two ways, i.e., a theoretical RTP and a published payout report.

Mr Green pay out rates are provided in the form of theoretical RTPs for individual games. While the game results are tested and analysed by independent organizations, Mr Green does not publish the reports on the website. Our extensive analysis found that classic slot games and video slots had the highest payouts, ranging between 98.01% and 99.9%. Roulette games, on the other hand, have payouts ranging from 94.7-97.3%. Blackjack variants also fall within the high-end range with RTPs as high as 99.64%.
Our Conclusion
We hope you are enlightened about all Mr Green deposit methods, fees charged and Mr Green deposit limits. The secret is to use a deposit method that also allows the player to withdraw and has a short Mr Green payout time. Credit/debit card payment options are befitting. However, players looking for deposit methods that allow them to credit their accounts without sharing their financial details should opt for Neteller.